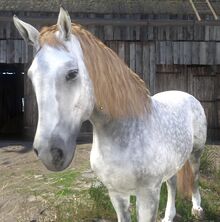 Schemig is a tier 2 horse available for purchase at the horse trader in Neuhof.
That horse is as loyal as they come. Only we had to raise the fence to keep him in. Jumps like a roebuck, he does.

- Zora
Statistics
Cost: 1230
Speed: 35
Capacity: 252
Courage: 19
Stamina: 210
Trivia
The name Schemig (Šemík in Czech) is a reference to the horse of Horymír, mythical Bohemian lord and hero. Shemir is the most famous horse in Czech mythology. According to legend, Horymír escaped from certain death by jumping over wall of Prague's Vyšehrad castle and from cliff into Vltava river. Legend says Shemig rode with his master into Neumětely village (cca 50 kilometers) where the horse died from his injuries of the jump. Shemig has a tomb in the village and thee is annual Schemig ride from outskirts of Prague to Neumětely village.
A horse with the name of "Shemig" also appears in German mythology.
Community content is available under
CC-BY-SA
unless otherwise noted.